Sealcoating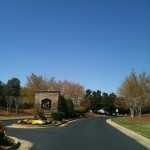 Sealcoating gives your asphalt a beautiful like new color and appearance, but it is also one the most important elements of pavement maintenance. Seal coating your parking lot or driveway every 3-5 years will ensure the your investment will stay in great shape and more importantly save you up to hundreds of thousands of dollars in new paving costs.
The primary reason to sealcoat an asphalt pavement is to protect the pavement from the deteriorating effects of sun and water. When an asphalt pavement is exposed to sun, wind and water, the asphalt hardens, or oxidizes. This causes the pavement to become more brittle. As a result, the pavement will crack because it is unable to bend and flex when exposed to traffic and temperature changes. A sealcoat combats this situation by providing a waterproof membrane which not only slows down the oxidation process but also helps the pavement to shed water, preventing it from entering the base material.
A secondary benefit of seal coating is an increase in the surface friction it provides. This is accomplished by the additional texture the cover aggregate adds to the pavement. With time, traffic begins to wear the fine material from an asphalt pavement surface. This result in a condition referred to as raveling. When enough of the fine material is worn off the pavement surface, traffic is driving mostly on the course aggregate. As these aggregate particles begin to become smooth and polished, the roadway may become slippery, making it difficult to stop quickly. A sealcoat increases the pavement texture and increases the surface friction properties. Read more

Crack Repair
The purpose of sealing cracks in asphalt pavement is to protect the pavement structure from premature failure. Unsealed cracks allow water intrusion and debris retention in the crack opening. Water intrusion in the cracks penetrates into the base and sub base materials creating the potential problem of a loss of strength in these materials. The weakened pavement structure can result in load-related failures such as alligator cracking. The debris retention can cause the pavement to "push up" at the edges of the crack when the pavement expands due to thermal changes. This decreases the ride ability of the pavement surface. These failures and deficiencies increase the life-cycle cost of the pavements. Reduce Maintenance Costs. The use of proper crack preparation and sealing techniques can extend the effective life of the sealant, thereby increasing the life of the pavement and reducing maintenance costs.
Line Striping
At Georgia Sealcoating. We install clearly marked stalls, handicap spaces, and directional arrows that all result in a more efficient and problem-free parking lot. These markings are often essential for maximizing parking lot space and enhancing the flow of traffic. Ensuring that the striping is compliant with the Americans with Disabilities Act also reduces owner liability. We also install parking bollards, bumpers, and any type of signage. Georgia Sealcoating also offers thermoplastic striping as well. Let us meet your pavements needs.
Sports Court Resurfacing

Is your tennis court fading, cracking, peeling or sinking? If so, it may be in need of repair and / 0r resurfacing. Most courts can be repaired then resurfaced, but if you wait too long to maintain your court, you face the possibility of it having to be re-done completely. With our experienced crews, three people can finish a tennis court resurfacing job in 1-3 days depending on the condition of the court and weather conditions. Most problems are caused by improper design, improper construction, drainage issues and aged asphalt. Problems such as fading and peeling are results of age. Problems such as cracking and bird baths are usually caused by ground movements. If you have a problem with the asphalt or the ground under your court, you may want to look at replacing the asphalt. Georgia sealcoating gives a no hassle warranty on sports courts as well.
 Asphalt Paving, Patching and Pot hole Repair
Georgia Sealcoating has the means to complete any paving job no matter how big or small. Whether it is new construction, reconstruction, overlaying, or patching: We are happy to offer our expertise at a fair and reasonable price. We view every client as a life time customer, so weather you have a single pot hole that needs to be repaired, or an entire parking lot that needs to be milled and repaved, you can always expect the same level of respect from us. When it comes to paving you have all types or grades of asphalt. We use the proper GAB ( Graded Aggregate Base ) course required for your parking lot or road. If you have many heavy trucks or buses passing through you will need a stronger base. Inadequate base installation will lead to asphalt failure down the road (i.e. excessive alligator cracking, and potholes.). Typically we will then install a Binder course asphalt and the final layer installed is always type "F" asphalt topping. When called to fix an alligatored area or pot hole, we must make sure that they are not the result of sub base issues. Often times asphalt cracks due to oxidation and once water penetrates the top layer of asphalt through these cracks, erosion may occur. This is the main reason sealcoating and crack repair are so important. Read More

Pressure Washing and Concrete Restoration
Georgia Sealcoating is now offering premium pressure washing and restoration services. We use eco-friendly cleaning products which soak out those unwanted oil stains from your gas station, supermarket, driveway, or commercial property. Along with hot water pressure washing our pressure washing services are unmatched.
Concrete Staining / Sealing gives your existing concrete a smooth sleek finish and also protects it from the elements which prolongs the concrete.